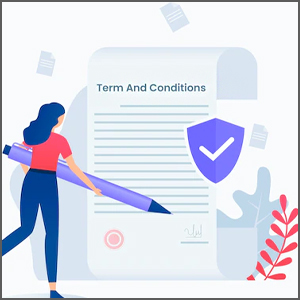 Terms & Conditions
1. Merchant will provide a full product description, images, and price (trade price, selling price, or revenue share percentage) by email. Trivoz.com will upload merchant products in specific categories on our website timely
2. Merchant will provide the ordered product to Trivoz.com (mentioned time). I (the merchant) will provide the product as same as the image and details.
3. As a Merchant, I am committed to Trivoz.com for informing stock updates in case the product is sold out. In case l can't provide the product for any paid order and the customer wants cash back, I am agreed to pay 4% of the payment to Trivoz.com as transaction fees.
4. I will assure My product quality so that reputation of Trivoz.com will not be hampered. I will provide the original product if I sell any replica/copy /duplicate product, it will be clearly mentioned in the product details
5. If Trivoz.com finds a defect in any product, l will replace it with a fresh one and take the defective product back. I will maintain the expired date of my product (if any), it is my responsibility to replace all expired products with a fresh one.
6 . All Products & services are Quality Assured By Merchants, not Trivoz.com. Products Purpose any Issue resolved By Merchant.
7. Merchant will inform immediately if he changes any product price, trade price, or revenue share percentage by email.
8. I will be responsible for products that have a warranty/guarantee for a specific period. I will not sel1 any illegal and prohibited products through Trivoz.com
9. As I maintain a healthy corporate relationship with PriyoShop.com, for a win-win situation for both party 1 will share information related to market statics, branding, and interesting facts regarding my products
10. We will take the necessary initiative to boost the sale of Merchant's Products. For boosting my sale 1 will provide Trivoz.com with the necessary Promotional tools
11. I willingly agreed to participate in different kinds of marketing campaigns carried out by Trivoz.com such as Cash Back, Massive Discount, Launching Offers, Buy One and Get One FREE, combo offers, etc.
12. I will maintain strict confidentiality related to information about our contract, transaction, future promotional plan, etc. I will not share business information with our slighter and any other employee of Trivoz.com except my Key Account Manager and CEO.
13. I will not initiate any business activity with any current employee of Trivoz.com and will not influence anyone to do so. Moreover, if any employee influences me to initiate any business activity outside of this contract, I will disclose this matter to the CEO.
14. It's our responsibility for keeping our trade license, TIN Certificate, VAT Registration, and other government documents valid and updated
15. Trivoz.com will collect sales payments on behalf of merchants from respected customers. Trivoz.com is liable for any transaction fee for collecting sales payment through card, bKash, Mobile Banking Bank Deposit, and another payment method
16. Rrivoz.com can pay weekly, or bi-weekly to merchants. Trivoz.com will provide only the trade price/Special price of sold products or the rest amount of the selling price after deducting our sales commission. Payment will be delivered by cheque to the merchant's bank accounts. Trivoz.com shall not be held liable in any way for any delay in payment transfer caused by Bank.
17. Trivoz.com will not be liable for any cash or mobile banking transaction between the merchant and Trivoz.com employee/customer including the key account manager.
18. We will feel free to contact each other's directly to resolve any business issue. We can terminate this agreement at any time by giving 30 (Thirty) days prior written notice to the other party.
Note : "I" reffer "Merchant" and "We" reffer "Trivoz.com.bd"